These Children Look Very Similar To Their Celebrity Relatives
Children can be described as the best thing in the world. Well, let's have a look at some of these children next to their celebrity parents!
DENZEL WASHINGTON AND JOHN DAVID WASHINGTON AT AGE 33
John David Washington clearly inherited Denzel Washington's good looks and acting skills. The actor's son has just started his own career and is best known for his role in the HBO comedy series Ballers since 2015. Most recently, he starred in Spike Lee's 2018 film, BlacKkKlansman.
Denzel Washington is honored in Hollywood for his talent to perfectly play any role. Denzel Washington has the eighth-most Academy Award nominations (8) in four acting categories of all time.
PRINCESS DIANA AND PRINCE WILLIAM AT AGE 35
Princess Diana, the late Princess of Wales, passed on her striking looks to her first son Prince William – our future king! Prince George, the oldest son of William, also looks similar to a young William – proving the family has strong genes!
Prince William and his brother, Prince Harry, both resemble the late princess in looks and grace. It is a shame she never got to see her two young boys grow into the charming men they are.
GOLDIE HAWN AND KATE HUDSON AT AGE 25
Goldie Hawn's daughter, Kate Hudson, looks the same as her mother – even inheriting the same facial features and golden curls. She started her career as a dancer but shifted to acting on television and ultimately film.
Goldie has numerous films credited to her name including Bird on a Wire, The First Wives Club, Death Becomes Her, and The Banger Sisters among others. Kate is also an actress and made a name for herself in 2000 – starring in the film Almost Famous, where she won a Golden Globe.
REESE WITHERSPOON AND AVA ELIZABETH PHILLIPPE AT AGE 18
This one is creepy! Ava Phillippe looks identical to her mom, Reese Witherspoon. They share the same bone structure and blonde hair. Ava acquires Ryan Philippe's (her handsome father) eyes and nose shape.
Ava is yet to determine a career choice – she might end up following in her parents' footsteps! Ava's mother, Reese Witherspoon has been acting since the age of 15 and has won many awards including an Oscar, a BAFTA Award, a Primetime Emmy Award, and two Golden Globe Awards.
KATE CAPSHAW AND JESSICA CAPSHAW AT AGE 31
Kathleen Capshaw Spielberg is an American actress, widely recognized for her performance as Willie Scott in Indiana Jones and the Temple of Doom. It's here where she met director Steven Spielberg, whom she eventually married.
Kate's daughter, Jessica, is from her previous marriage. Jessica Capshaw is also an actress and following in her mother's footsteps. Quite different from her father, Robert Capshaw, who is a sales manager, business executive, marketing director, and high school principal.
BILLY JOEL AND ALEXA RAY JOEL AT AGE 25
Alexa Ray Joel is the daughter of music icon Billy Joel and supermodel Christie Brinkley. She may not have inherited her supermodel mom's qualities, but she did seem to grow up with her father's musical talents.
At the age of 19, she performed her first live show at Maxwell's in Hoboken, New Jersey. And she has several singles to her name and an album called Sketches. We think those are hard shoes to fill – will we be seeing a Piano Woman soon?
WILL REEVE AND CHRISTOPHER REEVE AT AGE 25
Christopher Reeve was, of course, the famous Hollywood actor best known for his portrayal of the classic DC superhero Superman. Christopher's youngest son, Will Reeve, grew up with his father's good looks and is even following in his father's footsteps as an actor.
Will also works as a News Media personality and appears in television occasionally. Famously, his father Christopher was thrown off a horse in the middle of an equestrian competition and was ultimately paralyzed from the neck down.
KATE MOSS AND LILA GRACE MOSS-HACK AT AGE 14
Ever since the mid-1990s, Kate Moss has been a household name in the modeling industry. Her work with the top brand Calvin Klein was a key factor in how she was able to make her own impression in the business. She has a beautiful daughter called Lila Grace Moss-Hack, whom she shares with her ex-boyfriend Jefferson Hack.
Lila is still quite young but she can clearly continue her mother's legacy in the modeling industry if she wants. Moss isn't as busy as she used to be, but she does have her own fragrance line and even made a cameo in the movie Absolutely Fabulous back in 2017.
CELINE DION AND RENE-CHARLES ANGELIL AT AGE 17
Talented singer Celine Dion has been performing to the world ever since the 1980s – and there is no stopping her today! Her eldest son with her late husband, René Angélil, is called René-Charles Angélil. We can clearly see the resemblance between these two as he grows into a charming young man.
He has recently taken interest in a music career for himself and is hoping to be a thriving rapper and singer. René-Charles goes by the pseudonym 'Big Tip' and last year released songs like The Apple and Never Stop on SoundCloud. We look forward to hearing what's next!
JOHN ANISTON AND JENNIFER ANISTON IN THEIR LATE 40S
Jennifer Aniston inherited her glowing skin and Greek features from her father, John Aniston. Acting stayed in the family here, as he is a well-known soap opera actor in Greece.
Jennifer gained worldwide recognition for portraying Rachel Green on NBC's Friends – running for 10 years from 1994-2004. Her role earned her a Golden Globe Award, a Screen Actors Guild Award, and a Primetime Emmy Award.
LEBRON JAMES AND LEBRON JAMES JR. AT AGE 14
LeBron James is a pretty big name in the basketball world. He and his high school sweetheart (and now wife), Savannah James, have a son called LeBron James Jr. who seems like he's now on his way to grow up like his father.
LeBron Jr. is part of the Amateur Athletic Union's North Coast Blue Chipsbasketball team. The impressive skills in the sport clearly run in the family and it is already showing! LeBron Jr. is currently a student at Santa Monica's Crossroads School while his dad, LeBron, just signed with the Los Angeles Lakers.
KIM KARDASHIAN WEST AND AT AGE 5
NORTH WEST
Kim Kardashian has unquestionably come a long way since she was Paris Hilton's assistant and stylist. Thanks to her family's reality show, Keeping Up With The Kardashians, she is now one of the most famous people in Hollywood!
Her eldest daughter with husband Kanye West is called North West and has truly been taking social media by storm. North is still very young, but it's clear that she will definitely be inheriting money as well as looks when she grows up!
DWAYNE JOHNSON AND SIMONE IN THEIR TEENS
Dwayne 'The Rock' Johnson is an American actor, producer, and former professional wrestler. He is a father of three daughters, Simone, Jasmine, and Tina. Simone, who is 16, is Dwayne's oldest daughter – she is also the daughter to his ex-wife, Dany Garcia.
It appears she takes after her father's desire for showbiz. She is signed to IMG Models and was also designated the first-ever Golden Globe Ambassador for the 2018 Golden Globe Awards. It appears that we can expect to see much more from her in the future.
LISA MARIE PRESLEY AND RILEY KEOUGH AT AGE 29
Lisa Marie Presley is the daughter of Rock 'n' Roll legend Elvis Presley and Priscilla Presley. She herself has a beautiful daughter named Riley Keough. Even though Lisa pursued a career in music, her daughter Riley has expressed more of an interest in acting and modeling.
To date, Riley has appeared in movies like Magic Mike, Logan Lucky, and Mad Max: Fury Road. It looks as though Riley has a promising future in Hollywood and continues to have numerous upcoming acting projects planned.
HALLE BERRY AND MACEO ROBERT MARTINEZ AT AGE 5
Halle Berry remains to be the only black actress who has ever won the Best Actress award at the Oscars, even though others have been nominated. Despite having such an excellent career over the years, Berry was not as lucky with love – she had three failed marriages.
Eventually, Berry and her third husband, Olivier Martinez, had a son named Maceo Robert Martinez who is surely an adorable five-year-old. Since both his parents are actors, we can expect him to enter Hollywood one day too!
LOUIS ARMSTRONG AND SHARON PRESTON-FOLTA AT AGE 60
Louis Armstrong is a famous trumpeter who became a very well-known name in the Jazz scene. Across his career, he performed songs such as What a Wonderful World and La Vie en Rose. He married four times but never had children of his own.
In 2012, a woman called Sharon Preston-Folta declared that Louis is actually her biological father. Apparently, he had an affair with her mother, Lucille Preston, back in the 1950s. They even found a letter written by Armstrong back in 1995 saying that he felt that Preston's kid belonged to him. Wow!
MICHAEL J. FOX AND AQUINNAH AND SCHUYLER FOX AT AGE 23
Michael J. Fox will always be remembered for the role of Marty McFly in the Back to the Future movies from the '80s and early '90s. He and actress Tracy Pollan have been happily married for roughly three decades already!
Together, they have four kids – and Schuyler Frances and Aquinnah Kathleen are their gorgeous twin girls. Aquinnah and Schuyler haven't begun their own acting careers yet since they are busy finishing their studies, but we think they would be great in the industry!
BURT REYNOLDS AND QUINTON A. REYNOLDS IN THEIR 20S
Burt Reynolds was an actor who is most remembered for roles in classic films like The Cannonball Run, The Longest Yard, and the Smokey and the Bandit films. He married actress Loni Anderson back in 1988 but their marriage only survived for five years.
Together, the couple adopted a son named Quinton. Today, he is actually working in the Hollywood industry but as a camera assistant for now. Who knows, he might pursue acting like his father one day.
ELIZABETH TAYLOR AND NAOMI WILDING IN THEIR 30S
Elizabeth Taylor was one of the biggest stars in the world, appearing in films like Cleopatra and Cat on a Hot Tin Roof. Perhaps even more famously, she was married a whopping seven times! During her marriage to Michael Wilding in the 1950s (husband #2), she had a child.
Today, her granddaughter Naomi looks the spitting image of her iconic grandmother. The 44-year-old is a stylist, gallerist and Fashion Director of Issue Magazine and speaks fondly of memories with her grandma,
KELLY RIPA AND LOLA CONSUELOS AT AGE 17
Lola Consuelos is another daughter whose celebrity parents were successful in the acting field. Her mother is actress-TV host Kelly Ripa, while her father is Riverdale actor Mark Consuelos. Lola is still not giving signs that she wants to become like her parents, but she does attend some red carpet events from time to time.
Kelly and Mark also own their own production company, which they called Milojo. Today, she hosts the morning chat show Live! with Kelly and Ryan alongside with her new co-host, Ryan Seacrest. He joined the show in 2017.
NICOLE KIDMAN AND ISABELLA CRUISE AT AGE 25
Nicole Kidman is a popular actress known for some of her biggest roles in Eyes Wide Shut, Moulin Rouge!, and The Others. Of course, she was once married to Hollywood heartthrob Tom Cruise and they stayed married to each other for eleven years.
Isabella Cruise is one of the two children they adopted while they were together. Today, Isabella is already 25 years old and is working hard as a designer. In 2018, it was revealed that her parents support Isabella's decision to adopt a child of her own.
DUCHESS CATHERINE AND PRINCESS CHARLOTTE AT AGE 3
Kate Middleton is, of course, the lovely girl who grew up to become the Duchess of Cambridge after she married Prince William back in 2011. The couple has three adorable children and Princess Charlotte is their only girl so far.
Princess Charlotte is only three years old, but she clearly has a bright future ahead of her given the fact that she has royal blood. Just back in April 2018, the Duke and Duchess of Cambridge welcomed their third child called Prince Louis.
TORI SPELLING AND STELLA DOREEN MCDERMOTT AT AGE 9
Tori Spelling rose to fame back in the 1990s after she appeared in Beverly Hills, 90210 as Donna Martin.The producer of the show, Aaron, was her father – but how she got the role is still unknown. Today, her career has slowed down as she concentrated on building a family.
Spelling has been married to Dean McDermott since 2006 and the couple now has five kids together. Stella Doreen McDermott is their gorgeous daughter, and she was born back in 2008. The resemblance is uncanny!
ERIC ROBERTS AND EMMA ROBERTS AT AGE 27
Emma Robers is unmistakably doing a good job in maintaining the legacy of her father in Hollywood. Emma is the daughter of actor Eric Roberts who has already been in the industry for decades. He is most famous for the roles he had in Runaway Train, Star 80, and The Expendables.
However, Emma began at a very young age with her role in the show Unfabulous. She later grew into a more popular actress when she appeared in Scream Queens, Wild Child, and American Horror Story.
MARTIN SHEEN AND CHARLIE SHEEN AT AGE 30
Charlie Sheen's resemblance to his father, Martin Sheen, is pretty amazing! Putting these photos next to each other, the two can even pass as twins. This father-son duo both built notable acting portfolios in Hollywood. Martin is most known for the roles he had in Apocalypse Now, and The West Wing.
You probably remember Charlie for the roles he had in Spin City and Two and a Half Men. His father continues to star in Netflix's Grace and Frankie whereas Charlie's most recent role was in the 2017 comedy film, Mad Families.
PIERCE BROSNAN AND DYLAN BROSNAN AT AGE 21
Pierce Brosnan is a Hollywood star who has certainly maintained his status in the industry for many years. He is most remembered for his portrayal of James Bond in four Bond movies. His other popular roles were in Remington Steele, The Matador, and The Fourth Protocol.
He married journalist Keely Shaye Smith in 2001 and they are both the parents to two good-looking boys. Dylan, pictured above, is their oldest son who loves modeling and movie production. In his spare time, he performs in a band.
MADONNA AND LOURDES LEON AT AGE 22
Madonna has stayed an icon in the music industry since she burst on to the scene in the 1980s. Today, many refer to her as the Queen of Pop. Some of her most popular albums were Like A Virgin, Confessions on a Dance Floor, and Ray of Light.
She has a stunning daughter called Lourdes Leon, who was fathered by a fitness trainer named Carlos Leon. Lourdes is really making an impact these days with her career as a model. Lourdes used to just visit her mother to fashion shows back in the day. In September 2018, she walked the New York Fashion Week runway for the first time.W
CLINT EASTWOOD AND SCOTT EASTWOOD AT AGE 30
Clint Eastwood proved himself a heartthrob back in his prime time. Throughout the 2010s, Clint Eastwood showed off his charm with grizzled eyebrows and grey-white hair yet he was considered an outstanding actor and director.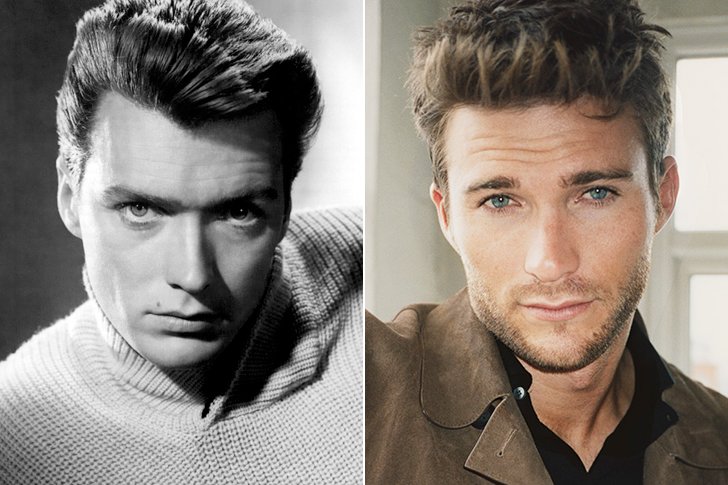 His performance in Dirty Harry and The Good, the Bad and the Ugly cannot be neglected. One fun fact about him is that this sure heartthrob does not clearly list down the number of kids he has fathered. But he is super proud of his one child, Scott Eastwood, who inherited the genes for being a heartthrob himself. The likeness between the two makes it nearly impossible to rank the better one!
CHRIS PINE AND ROBERT PINE AT AGE 37
You don't hear the name 'Robert Pine' these days on a random count. But Robert Pine was someone who was on television screens during the 70s and 80s reign. ChiPs and Lost in Space are his masterpieces which hold utter importance until now.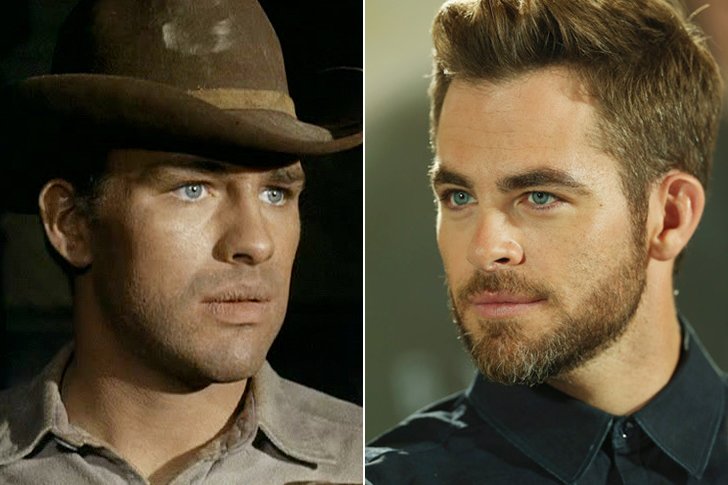 Ask your parents! His son, the ever handsome Chris Pine, known as Captain Kirk from Star Trek, successfully inherited the sea deep blue eyes and a knife-sharp jawline from his celebrity father.
BETTE MIDLER AND SOPHIE VON HASELBERG AT AGE 31
The very beautiful, the very gorgeous Bette Midler is known for her voice. Her singing and acting career helped her creating assets of net value of $230 million. This worth is enough to give her daughter, Sophie Von Haselberg an ideal lavish life.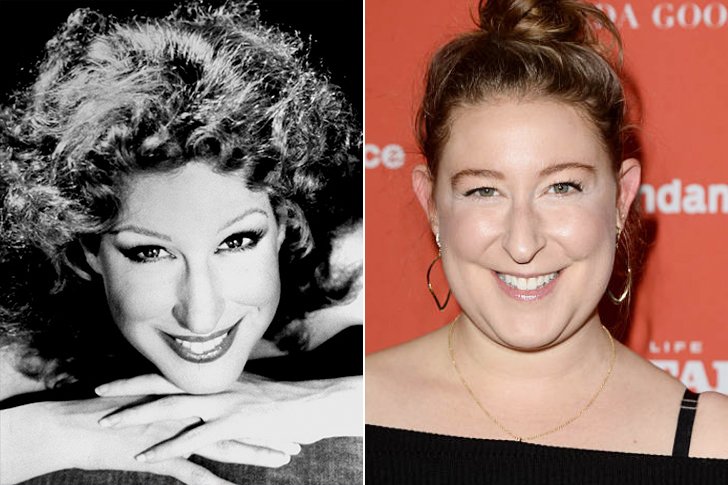 But the interesting part here is that Sophie is not dependent on her mother's property. She holds a degree from Yale University. Although she has inherited a smile and eyes along with acting skills from her mother, she has a huge benefit to pursue her career if the showbiz industry doesn't accept her.
JULIAS IGLESIAS AND ENRIQUE IGLESIAS AT AGE 42
Julias Iglesias and Enrique Iglesias, this father-son couple is impossible to ignore. The urge to listen to their melodious voices is irresistible. Julio had been awarded a mighty place in Hall of Fame of Latin Composers and the most ideal Hollywood Walk of Fame.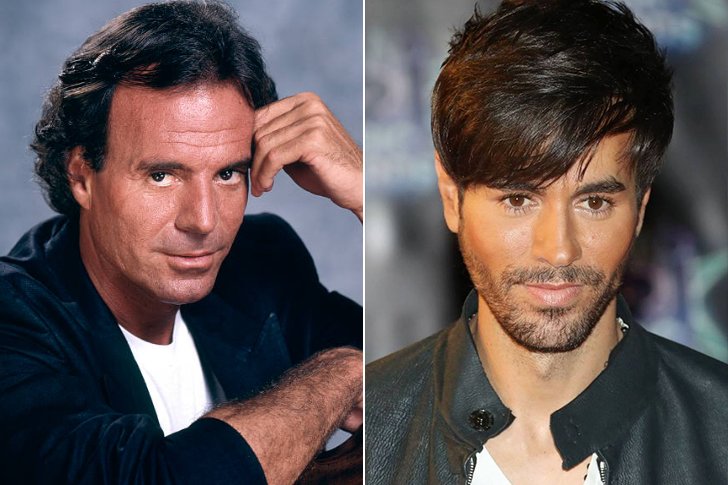 His son, Enrique has inherited not only the voice but also the tempting looks. Spanish gods!
JANET LEIGH AND JAMIE LEE CURTIS AT AGE 25
The era of the 50s and 60s was blessed to have an active and stunning actress. Janet Leigh is known for her famous role as Marian Crane in Alfred Hitchcock's Psycho. Janet gave birth to two beautiful daughters in her two years marriage with co-actor Tony Curtis.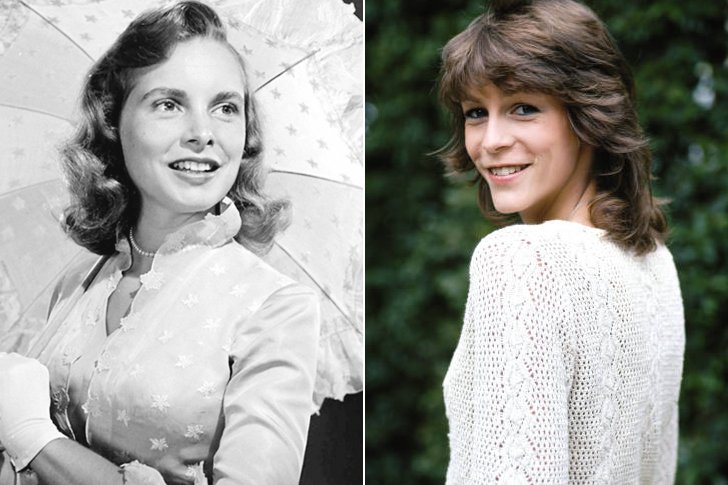 Her younger daughter Jamie Lee Curtis inherited her mother's striking features and beauty. She also took her acting skills and appeared in her debut in 1978s Halloween. Both mother and daughter are known for their very good acting skills in horror movies.
UMA THURMAN AND MAYA THURMAN-HAWKE AT AGE 19
Talk about a throwback photo! Here we can see Hollywood actress at the young age of just 19. Just as her career was taking off, she would go on to star in films like Kill Bill and Batman and Robin.
We can see that the apple doesn't fall too far from the tree! Maya Thurman Hawke is her oldest child with Ethan Hawke. Recently, she made her screen debut in 2017 with an adaptation of Little Women. We can't wait to see how her career goes from here!
ZOE KRAVITZ AND LISA BONET AT AGE 21
This famous mother-daughter duo are immediately recognizable for their chic style and amazing looks. Here they both are at the age of 21 and we can see just how much Zoe takes after her mother, Lisa Bonet.
Bonet started her career on The Cosby Show before heading to a short-lived spin-off. Her pregnancy with Zoe is what caused her to leave the show. Zoe Kravitz is acting, too: appearing in shows like Californication and Big Little Lies.
LILY SHEEN AND KATE BECKINSALE AT AGE 18
When both your parents are famous actors, it makes sense that you would want to join the family business! Lily Sheen is the daughter of Kate Beckinsale and Michael Sheen – and here she is looking identical to her mother!
Lily Sheen has already started acting, appearing in Underworld: Evolution alongside Kate. Let's see what happens when Lily gets more established – perhaps she will take the film franchise from her mother? We'd love to see her act alongside her famous parents!
Read More: Terrible Habits Children Pick Up From Their Parents